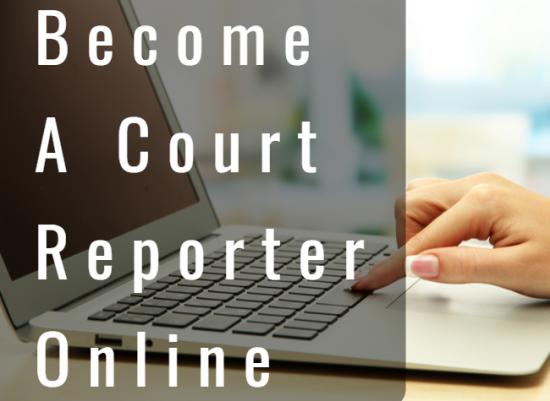 Court reporters are in high demand with the top 10 percent earning wages over $90,000 per year. Pursuing training in stenography creates an opportunity for a good income without having to obtain a traditional four year college degree. This is a strong choice for those looking for a quick turnaround with minimal investment. Many court reporting certification programs can be finished in just two years. Additionally as a profession that is increasingly mobile, as in court reporters are now finding work transcribing depositions and closed captions for television broadcast from the comfort of their own home, it makes sense that you can earn your certification and become a qualified court reporter online.
15 Online Court Reporting Programs Approved by the NCRA
The National Court Reporters Association is no in and of itself an accrediting agency, but all court reporting programs approved by the NCRA listed below are accredited by agencies recognized by the U.S. Department Of Education. Below is a list of the schools offering online court reporting programs. For a full list of programs and Baccalaureate degree programs vs. certifications check out the National Court Reporters Association's full list of approved programs.
FLORIDA

Atlantic Technical College

4700 Coconut Creek Pkwy.

Coconut Creek, FL 33063

754-321-5100 x3090

Contact: Linda Tobin

Key College

1040 Bayview Drive, Ste. 200

Fort Lauderdale, FL 33304

800-581-8292

Contact: Ronald Dooley

Sheridan Technical

College

5400 Sheridan St.

Hollywood, FL 33021

754-321-5400 x3073

Contact: Aurora Joslyn

GEORGIA

ILLINOIS

INDIANA

Brown College of

Court Reporting

1100 Spring St. N.W., Ste. 101

Atlanta, GA 30309

800-849-0703

Contact: Marita Carey

Midstate College

411 W. Northmoor Road

Peoria, IL 61614

309-692-4092 (B)

Contact: Kathryn A. Dittmeier

College of Court Reporting

455 W. Lincolnway

Valparaiso, IN 46385

866-294-3974 x222

Contact: Nicky Rodriguez

MISSOURI

NEW YORK

Vatterott College - Sunset Hills

12900 Maurer Industrial Drive

Sunset Hills, MO 63127

314-843-4200

Alfred State College

10 Upper College Drive

Alfred, NY 14802

607-587-3421

Contact: Danielle Green

OHIO

Clark State Community College

570 E. Leffel Lane

Springfield, OH 45505

937-328-8080

Contact: Robyn Hennigan

henniganr@clarkstate.edu

Cuyahoga Community College

Western Campus

11000 Pleasant Valley Road

Parma, OH 44130

216-987-5214

Contact: Kelly Moranz

kelly.moranz@tri-c.edu

Stark State College

6200 Frank Ave. N.W.

North Canton, OH 44720

330-494-6170 x4359

Contact: Julie Hardgrove

jhardgrove@starkstate.edu

TEXAS

WASHINGTON

Arlington Career Institute

901 Ave. K

Grand Prairie, TX 75050

972-647-1607

Contact: Jon Vecchio

Green River College

12401 S.E. 320th St.

Auburn, WA 98092

253-833-9111 x4219

Contact: Lori Rapozo

WEST VIRGINIA

Huntington Junior College

900 Fifth Ave.

Huntington, WV 25701

800-344-4522

Contact: Carol Adams

cadams@huntingtonjuniorcollege.edu

Madison Area Technical College

1701 Wright St.

Madison, WI 53704

608-246-6100

Contact: Lisa Jo Hubacher
With court reporting salaries stretching into the the six figures and an opportunity to not only earn your certifications from the comfort of your own home, but to actually be able to work as a stay-at-home stenographer transcribing depositions as a streaming enabled real time court reporter or freelancing as a closed captionist for live television broadcast and special events, it's a wonder that there is a nationwide shortage of court reporters joining the workforce.