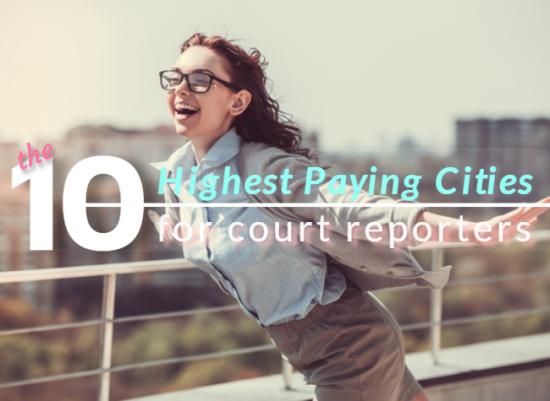 With news of a slowdown in new court reporters joining the workforce and a surplus of court reporter/closed captioning jobs increasing each year it's easy to get swept up in the fervor of demand outstripping supply thus forcing court reporter wages ever higher. With news agencies reporting stories called "This job makes six figures, with no college degree" it's understandable how one might be swept into the excitement of a possibly lucrative career as a real time court reporter or closed-captionist.
As more and more stories are pushed and recycled using data from over 3 years ago, it's easy to start taking hyperbolic statements as facts and assuming these reports are the norm for the industry nationwide.
Using up-to-date data from 2016 and 2017 we will explore the national average yearly income a court reporter can expect to earn and the top paying cities that account for those court reporters in the 90th percentile who are pushing six figure salaries.
Can a new court reporter reasonably expect to make $100,000 per year?
There are many variables that play into a court reporter's salary: geography, experience, and industry. According to the Bureau of Labor Statistic, the 2016 median annual wage for a court reporter was $51,230 per year or about $24.68 per hour.
Salary.com reports a slightly different number as of September of 2017: The median annual Court Reporter salary is $55,318, as of September 27, 2017, with a range usually between $39,913-$72,403. Glassdoor weighs in reporting a national average income of $46,427 updated Sep 18, 2017.
The median annual Court Reporter salary is $55,318, as of September 27, 2017, with a range usually between $39,913-$72,403
So how much can we reasonably surmise a court reporter is likely to earn on average? Taking the mean average of all of these figures we can come to a reasonable expectation of $50,991.67.
$50,000 per year is a far cry from the six figure salaries being touted online and in the news. But, there actually are court reporters who earn over $90,000. Why is this?
What factors contribute to higher wages for court reporters?
Geography and Industry are two huge factors in deciding a court reporter's annual salary. The top paying industries for court reporters as reported by the Bureau Of Labor Statistics are:
INDUSTRY

HOURLY WAGE

ANNUAL WAGE

$29.28

$60,900

$28.29

$58,840

$27.13

$56,420

$24.70

$51,370

$21.42

$44,550
The data above are encouraging, but these numbers still don't support the reports of high wages sweeping the industry. Where do the outliers lie? What is accounting for the reports of six figure salaries for court reporters? Where is the support for these claims?
The answer is geography. You've heard the saying, "it's all about location, location, location." This is especially true for court reporting jobs. Where a court reporter works can have an enormous effect on their annual salary. Employment in a top paying city can take your decent $50k per year income and literally double it.
Below are the highest paying cities as reported by the Bureau Of Labor Statistics in May 2016.
The 10 Highest Paying Cities For Court Reporters
METROPOLITAN AREA

HOURLY WAGE

ANNUAL WAGE

1.

$52.52

$109,240

2.

$49.20

$102,340

3.

New York-Jersey City-White Plains, NY-NJ Metropolitan Division

$45.45

$94,530

4.

$45.09

$93,790

5.

$43.24

$89,950

6.

$41.91

$87,170

7.

$39.85

$82,880

8.

$38.37

$79,800

9.

$37.02

$77,010

10.

$36.55

$76,020
It's absolutely true that a nationwide court reporter shortage is driving expected annual incomes higher, but there is a lot of attention being placed on just the top 10 percent of earners in the profession. What's true is this is a career that does not require a degree from a traditional four year university wherein one can expect to make a strong $50,000 per year living coupled with a potential boost for those working within the top paying metropolitan areas. There is a very good income still to be made in this industry.