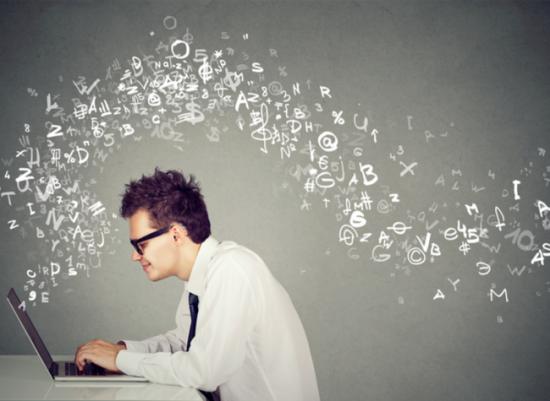 IF YOU CAN TYPE, YOU CAN BE A COURT REPORTER
Although a court reporter possesses amazing typing abilities, a court reporter or court transcriptionist is more akin to a musician.
With a keen ear and fast fingers, the court reporter quickly records into the official transcript everything that is said in a courtroom, deposition, or in this day and age, even what's happening on television with real-time speed and precision.
But if you think all a court reporter does is fire up a Microsoft Word document and starts typing, you are very incorrect. First, the speed at which people speak, argue, and talk over each other would quickly put an MS Word typing court transcriptionist out of business. They couldn't keep up. To hit speeds of 360 words per minute with an accuracy of 97.23% (world record) you need a totally different, specialized system.
A court reporter plays his stenograph like a pocket-sized organ striking chords that range from small sounds like "th" to complex phrases and sentences. They even test their typing might in epic contest: Court Reporters Have Battles: Gladiatorial Displays Of Skill, Technique, & Focus
A GOOD COURT REPORTER IS HARD TO FIND
Busted! In this day and age an excellent, highly qualified, and skilled court reporter is just a click away. If you're reading this, then you are two clicks from calling (click contact us) and booking a real-time ready video streaming enabled court reporter anywhere in the world. Discovery Litigation Services offers comprehensive solutions provided with over 20 years of experience and dedication to the industry. It does not take much to get a cost-effective, quality court reporter, anywhere you need.
See The Full List Of Solutions Offered by Discovery Litigation Services
THE ROBOTS WILL TAKE OVER!
The robots are absolutely taking over. There is no doubt about that. Self-driving cars are hitting the roads, drones are delivering pizzas, and robots have been building cars for how long now? But, if you think that a piece of voice to text software can replace a skilled court reporter, I invite you to try having a conversation using your smartphone's voice to text functionality.
The technology isn't quite there. In fact, many words are misrecorded just with one person speaking, let alone multiple parties arguing or talking over each other. For this to be feasible, an artificial intelligence with the ear, judgment, and knowledge of a live court reporter would have to be implemented.
And yes, the likes of IBM's Watson might be able to accurately hold conversations, answer questions, win jeopardy, and look up cat videos online, but it is not financially viable to place a multimillion dollar Watson in every legal proceeding.
Will technology replace the court reporter? Not until we can teach a machine the subtleties of language, give it good judgment, and the ability to understand context and innuendo and make it cheaper than a human doing the same job.
GUYS DON'T WANT TO BE COURT REPORTERS
With the old image of a secretary-like woman modestly typing at her stenograph machine, it is no wonder many people overlook the fact that the industry is now split pretty evenly between men and women court transcriptionists.
The world's fastest court transcriptionist is Mark Kislingbury. He set the 360 words per minute record mentioned above.
With such competitions and records to be broken, being a court reporter doesn't have to be considered boring. Like the scribes of the Roman senate over 2000 years ago, the court reporter is the ear into which the most powerful people in history have spoken.
A COURT REPORTER IS A SLAVE TO THE COURTROOM
The modern day court reporter is no longer "stuck" taking jobs in legal proceedings. Court reporters are in demand in private business and television.
With the federal mandate of 2006 to require live captioning of all television broadcasts by a certified court reporter, a new door has opened. Converting the spoken word into readable text has important applications in television broadcast captioning, to enable millions of people with hearing loss to follow and understand live television programming including news, sporting events, and emergency announcements.